Latest news
Contact us
ADD: Room 15P,Tower B,Duhui 100 Mansion,Zhonghang Road,Futian District,Shenzhen City,Guangdong Province,P.R.China
TEL: 020-0755-23488844
FAX: 020-0755-23488844
E-mail: vicaudio@msn.cn

> Amplifiers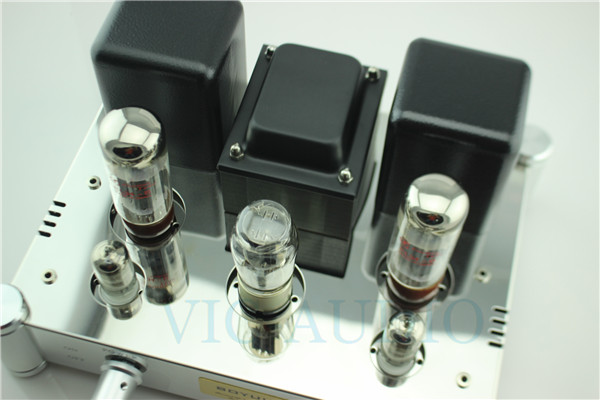 EL34B+5Z4P+6N2J Vacuum Tube Pwer Amplifier
Weight:12KG
Output Power:12W*2(Ultra-linear connection mode)
Input Sensitivity:750MV
Signal-To-Noise Ratio(SNR):88dB
Product description: EL34B+5Z4P+6N2J Vacuum Tube Pwer Amplifier
Product introduction
EL34B single ended Tube amplifier

Output Power:12W*2(Ultra-linear connection mode)

Frequency Response:20Hz—28KHz

Output Load impedance:4Ω,8Ω

Total Harmonic Distortion:≤ 1%(1kHz)

Input Impedance:100KΩ(Two input signals)

Input Sensitivity:750MV

Signal-To-Noise Ratio(SNR):88dB
Output Transformer: Enlarged version 76 * 40

Dimension(W×D×H):310mm×268mm×165mm

Shuguang tube EL34Bx2;6N2Jx2 5Z4Px1 Chass is stainless steel with 4 Alu feet 9 (CNC making)
product features and processes
6N2J pre-voltage amplification.

dawn swallows export EL34B do power output.
potting output transformer, ensure the stability and reliability of the output of cattle, especially in the southern humid places, has a more reliableperformance.
Output transformer imported 0.35 with a new core manufacturing, high-purity copper wire wrap wire, layered staging, string and connection method, is divided into three clips two winding,
Output transformer housing with high-grade stretch hood. Surface temperature paint handling, bright pattern process. Nissan ALPS potentiometer.
imported 0.35 thick core manufacturing supply cattle to ensure adequate power and low temperature rise.
Warranty:
1. 1 year warranty and 90 days warranty on the vacuum tube.
2. We guarantee original and brand new quality. Every product will be tested well before we send out. If the item is defective, please notify us within 5-7 days of delivery. All items must be returned in their original condition(including the box, packaging, and all the accessories), in order to qualify for a refund or exchange of goods. Shipping cost,handling fee and insurance are not refundable in any case.

3. The buyer is responsible for all shipping cost incurred.